Donate Needed Items for St. Johns County Homeless Families
Below is a partial list of items we require for our housing programs.
Used items and partially used supplies in good condition are most appreciated.
Please: If you THINK we might be able to use it, we CAN!!!
Call 824-6623 or 819-0059 for more information.
Baby & Child Items
Diapers (all sizes), High Chairs, Cribs, Play Pens, Mattress Pads, Crib Sheets, Baby Products. Youth beds, toys, games. basketballs
Building Supplies
Interior House Paint (Latex-may be partially used cans), Exterior House Paint (Latex), Paint Brushes, Rollers, Pressure Washer, Lawn Mowers, Rakes, Hoes, Shovels – Yard Tools, Plumber's Snake, Tall Ladder, Roles of Insulation, Playground Equipment. Plants, Shrubbery, Fruit Trees.
Cleaning Products
Bath Soap, Laundry Detergent, dryer sheets, Dishwashing Liquid (not for automatic dishwashers), Scrub Brushes, Cleaning Supplies-Bleach, COMET, Windex, 409, etc., Oven Cleaner, Aerosol Spray, Plastic Garbage Bags (13 Gal. & 33 Gal.), Toilet Plungers, Toilet Brushes, Mops, Brooms, Lysol disinfectant spray
Household Items
Light Bulbs – 40, 60, 75 Watt, Smoke Alarms, Fire Extinguishers (wall mounted), Garbage Cans (kitchen and outside cans), Ceiling Fans, Wall Plates for electric outlet covers, Batteries, Brooms, Dust Pans, Vacuum Cleaners & Bags, Mops, Mop Buckets, Sponges, Laundry Baskets, Garbage Bags (kitchen size and 33 gallon lawn size). Bathroom heaters, Wall clocks.
Household Furnishings
Double Beds, Single Twin Beds, Mattress covers, Bed Linens, Bunk Beds, Baby Beds. Sofas/Loveseats, End Tables, Table Lamps, Bookcases, Dressers and Chests of Drawers, Kitchen Tables and Chairs, Computer Desks, Shelving.
Kitchen Food & Items
Canned Goods (beans, vegetables, noodles, soups, Ham, Tuna, Salmon, etc). Wesson Oil, Crisco, Salt, Pepper, Pots, Pans, Skillets, Can Openers, Plastic Baggies, Saran Wrap, Waxed Paper, Aluminum Foil, Latex Gloves, Microwaves, Place Mats (plastic), Kitchen Towels, Oven Mitts. Gladware Storage containers (all sizes), Lysol spray, Kitchen counter cleaner.
Paper Products
Paper Towels, Toilet Paper, Kleenex, Personal Hygiene Items (bath soap, shampoo, deodorant, toothbrushes, dental floss, toothpaste, disposable razors, hair brushes & combs, hair spray, head lice shampoo, sanitary products, white cotton socks, wash cloths).
Transportation
Bicycles: Men's, Women's, Children's
Porch Furniture
Chairs, Rockers, Benches, Children's outside play toys, Yard Chairs, tables
Office Supplies
Fire-proof File Cabinets with locks, Postage Stamps, Computers, Computer Desks & Chairs, Telephones.
Christmas Decorations
Artificial Christmas Trees, Unbreakable Tree Decorations, Door Wreaths, Yard Decorations. (Used items in good condition are appreciated).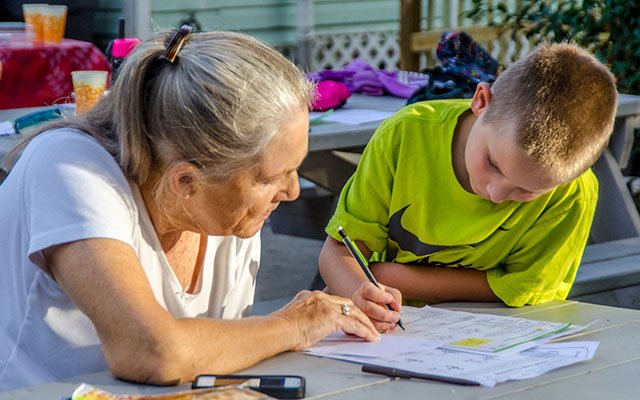 The mission of ESHC of St. Johns County, Inc. is to truly make a difference in the lives of homeless children & their families by providing the opportunity for them to remain intact, stabilize their lives, save towards affordable permanent housing and break the cycle of homelessness.